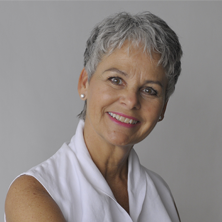 Doris Baer
Innergy & Nei Gong Teacher
TEL : +852 5272 8737
EMAIL : doris@dorisbaer.com
WEBSITE : dorisbaer.com
CONTACT :

HOURS : Mon-Fri 8am-9pm, Sat 8am–5pm
Learn how to achieve and maintain sustainable health, wellbeing and happiness.
Nei Gong is the parent system of Tai Chi and Chi Gong, internal Chinese art practiced for physical health by re-aligning the body, improving strength and flexibility and for relaxation, personal growth and spiritual development.
Doris Baer teaches courses and private one-on-one session for all levels. She gives workshops and teacher training preparatory courses. Doris offers individual and group healing with the "Healing Flame", her own technique to balance body, mind and spirit. She also offers Level 1 and 2 Healing Training. All services are available in English, German and Swiss German and on Zoom. Free trial group class for new comers and HK residents.
Entered 22-Oct-01 | Updated 04-Aug-21